THERE WILL BE NO MORE NEWS ITEMS POSTED HERE.
CHICTRIBUTE.COM HAS STARTED A NEWS BLOG HERE!
NILE SOLO FIRST TIME ON CD!

(Stockholm 26/12 08) CHIC fans Pietro Cannas and Graham Lewis reports:

"The first solo album of Nile Rodgers "Adventures In The Land Of The Good Groove" will be released on CD January 21st 2009 and it contains 2 bonus tracks "The Land Of The Good Groove" and "Yum-Yum" in extended versions."

This is very exiciting as this is, to my knowledge, the first time this album has been released on CD. Imho Nile Rodgers best solo effort. So hurry up and order a copy one never knows how long it will stay in stock. The price is 8,99 GBP.

The Webshop puts it like this: "World Exclusive, 1st time ever on CD and very much desired and requested, Nile Rodgers 1983 Solo album. Available now for Preorder, Release date 21st January 2009, all preorders shipped on 21st January 2009 without delay."

The CD is released by "Funky Town Grooves" and they are also releasing Fonzi's track from "Soup For One" "I Work For A Livin'" on the compilation "Mirage Soul & Funk Collection Volume 1".(pocat)

1983 NILE SOLO REVIEW GO! PRE-ORDER THE NILE RODGERS CD GO! PRE-ORDER THE COMPILATION CD GO!
FONZI ALBUM TRACKS FOUND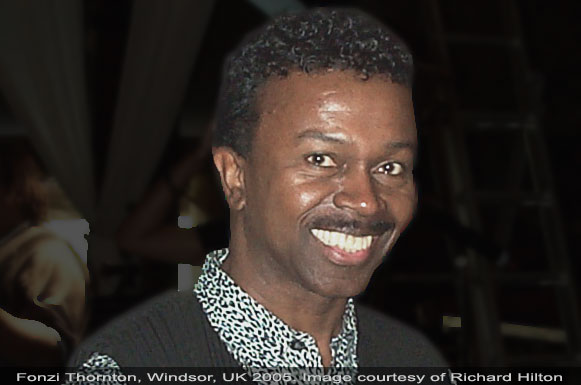 (Stockholm 12/12 08) CHIC fan Wouter Heijke mailed me, a couple of days ago, and said he had found the track list of the unreleased CHIC project featuring CHIC choir leader Fonzi Thornton supposedly done in 1982. I was understandibly very excited. The info comes from the US Copyright Database. It seems that the Fonzi album was done in 1981, and it did include "I Work For A Livin'" and "Riding" both released as part of the soundtrack for the movie "Soup For One" (1982) "Riding" was however not on the soundtrack album. As far as I know the album, except the two above mentioned tracks were never finished, but was a collection of demo's that Nile & Nard were shopping around record co.'s with, trying to get a record deal for Fonzi. This didn't happen so most of the project was shelved. However the demo's still exist. According to the database, the album was entitled "Don't Throw My Love Away".
To Nile Rodgers: I would like to say that we fans want this album released even if it's in demo form. In fact we want it in any shape or form. Why not release it as a digital download? That seems to be the most cost-effective way for you to get it out.
THANK YOU TO WOUTER HEIJKE FOR THIS INFO
CHIC AT PROMS 2009
MATHIS/CHIC TRACK PLAYED
(Stockholm 29/11 08)
CHIC fan
Simon Parr
found a note on the net saying that the
DJ Ralph Tee at JazzFM
had played the title track "
I Love My Lady
" from the still unreleased CHIC production with
Johnny Mathis
, in the summer of 2008. He contacted Ralph and asked him to play it again, which he did on November 9th 2008. After playing it Ralph mentioned that
three tracks
of this album will be
included
on the "coming"???
CHIC box
.
-Having heard this excellent albeit unusual CHIC track it still baffles me why the full album can not be released. To include just three of the tracks from the album in the CHIC box is tantamount to a maddening tease, which makes me almost not wanna buy the box. Why!!!!! not include the full album?
DISCUSS THE TRACK IN THE FORUM GO!
NEW TRACK FROM NORMA JEAN
(Stockholm 16/09 08) Charles Schillings
has just released "
Be Gone
" a new track featuring
Norma Jean Wright on lead vocal
.
NORMA JEAN, LUCI & ALFA ON PULS 87 RADIO THIS WEEK!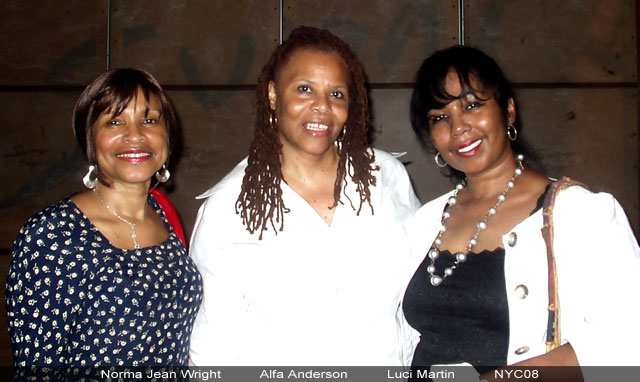 (Stockholm 11/08 08) Norma Jean Wright will be co-hosting the radio show "Star & Buc Wild Morning Show" on Puls87.com tomorrow Tuesday August 12th at 6am to 10am (EST) - 12-16 (CET). Luci Martin will co-host on the same show on Wendsday 13th of August, and Alfa Anderson on Friday 15th of August. Check out our glorious ladies. Also take the opportunity to mail a message to them. Luci's and Alfa's appearances are also at 6am-10am EST = 12-16 CET.
BTW: If you don't hear the show by 6am EST (12:00 CET) just reload the player window.
Special thanks to Raymond Jones for the picture.
NILE INTERVIEW
UPDATED (02/09 08) Luigi Melatti reports on yet another pre-Creamfields CHIC gig interview with Nile Rodgers, this one includes a short podcast. Check it out. Thanks to Luigi for this news.

READ THE INTERVIEW GO!

(Stockholm 29/07 08) Nile Rodgers is interviewed in anticipation of CHIC's gig at the Creamfield Festivals 10th Anniversary the weekend of August 23-24.

READ THE INTERVIEW GO!
30TH ANNIVERSARY CHIC!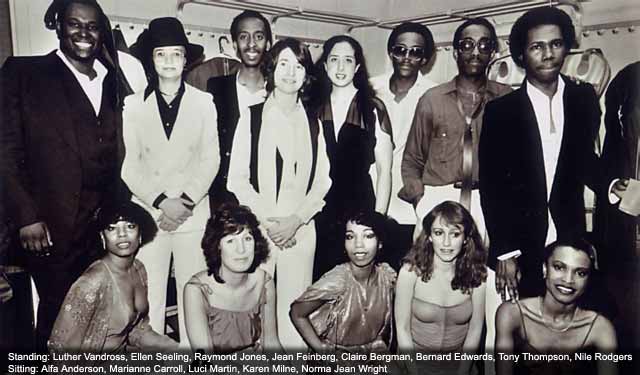 (Stockholm 29/10 07) Today 30 years ago, on the 29th of October 1977, CHIC released "Dance, Dance, Dance (Yowsah, Yowsah, Yowsah)" on Atlantic Records, and the great history of our favorite band began.
CHIC gave us good times whenever there was a party. They gave us class to aspire to, and unknown to most of us back then, they gave us an education in music, that we have benefitted from ever since.
Most of us have had significant events in our lives set to the music of CHIC. It has been part of our DNA since we first heard it.
Today we want to celebrate the great gift of the "CHIC Sound", and all the people who were a part of bringing it to the world. Thank you for your gift.
A special thank you to Nile Rodgers and Karen Milne for help with identifying the people in the photo.
NILE'S FOR OBAMA
(Stockholm 23/10 07) According to newsday.com Nile Rodgers has donated money to the Barack Obama campaign for US President.

READ THE ARTICLE GO!
LET'S DANCE SAMPLE
(Stockholm 23/10 07) Luigi Melatti reports on a new sampling of the CHIC-ish, Nile Rodgers produced, David Bowie hit "Let's Dance" (1983). The song is by Craig David - "Hot Stuff (Let's Dance)". Thank You Luigi.

I have also changed the criteria for inclusion into the CHIC Emulators list. So this song will be included under "(I)-Influence" as will the Sharon Ebrecht submitted song below (14/10 07). Remixes of CHIC songs done by other than Nile or Nard will be included under "(C)-Cover". Read more on the Emulator page.

WATCH THE VIDEO GO!
PRAISING CHIC
(Stockholm 21/10 07) How very nice it is to read an article praising CHIC when discussing the Rock & Roll Hall Of Fame nominations. The Disco Backlash seems to be alive and well among the many commentators commenting on the recent nominees. Vincent Rodriguez a former music critic at the Dallas Morning News, takes this view in his article "Chic doesn't just want your love, group deserves it".

READ THE ARTICLE GO!
ALFA INTERVIEW!
(Stockholm 16/10 07) The Augustachronicle.com has posted an interview with Alfa Anderson. And there are some very nice photos posted with the interview that you have to check out. To read the interview you have to register, but it's free.

READ THE INTERVIEW GO!
KOOKOO REVISITED
(Stockholm 16/10 07) There is an interview with Nile Rodgers posted today on popmatters.com. The interview is about CHIC's work with Debbie Harry's first solo album "KooKoo" (1981) (review). It is coupled with an interview with Debbie Harry, posted yesterday, on her discography and her new solo album. Thank You Christian John Wikane for the news.

KOOKOO VIDEO CLIPS: The Jam Was Moving (live in studio), Now I Know You Know (promo), Backfired (promo)
LET'S DANCE COVER
(Stockholm 14/10 07) Sharon Ebrecht reports on a new cover of the CHIC-ish, Nile Rodgers produced, David Bowie hit "Let's Dance" (1983). The song is by Hi Tack - "Let's Dance". Thank You Sharon.

WATCH THE VIDEO GO!
NEW ALBUM FROM RAYMOND JONES!
(Stockholm 28/09 07) Raymond Jones has released a new album called "Hillside Stories" it is now available to buy at his website Uegmusic.com (The highest quality downloads) and Cdbaby.com. The album is more political than his previous releases, the press release has this to say about it:

"A work conceived in the rebellious spirits of influential greats like Nina Simone and Gil Scott-Heron. Jones said, "They both took the stand that black music of America came from a legacy of expression, resistance and struggle, and music was the best way to communicate ideas to people in an artistic manner." ...//...

"With politics in the fore and news of tragedies being broadcast 24-7, Jones explained, "These pieces were written over time and time has proven that there is still work to be done regarding these issues as they are ongoing." ...//...

"I don't need to point any fingers but even our legacy artists have gotten away from in-your-face confrontation with the issues," said Jones, "Love is important but we need to speak on the need for freedom and justice for all and a legitimate means for people to earn a living." And according to the 30-year music veteran, "Hip-hop artists in the mainstream have been bought and sold and talk of very little of substance other than so-called bling, getting paid-and-laid, and selling merchandise with few exceptions". He continued, "My main issue with many mainstream hip hop/rap artists is it's apparent that they neither read nor express an opinion about the world at large, and no mainstream hip-hop artist has sung or rapped about the wars in Iraq and Afghanistan." ...//...

He declared, "It's their generation that will come back in coffins or maimed and their voices should be speaking out about it, just as every other generation has done for the wars of their own times.""If hip-hop is to be the CNN of the streets, it must start reporting the news and not just the hype", he exclaimed. "I know there is a hip-hop underground at work and I encourage their dedication to their craft. ""

...And some bio info for those of you who don't know:

"Hillside Stories has 13 tracks with Jones providing piano, keyboards and vocals for this newest collection by the former keyboardist of the ground-breaking disco-pop band Chic and musical director for pop-R&B balladeer Jeffrey Osbourne. ...//...

Raymond Jones is the writer/co-writer of multi-platinum hits like Whitney Houston's debut song "Someone for Me", Jeffrey Osbourne's "Stay With Me Tonight" and "Borderlines", as well as film soundtrack work on film director Spike Lee's School Daze, Do the Right Thing, Clockers, Mo' Better Blues and Get On The Bus; and Little Drummer Girl, Splash, Wasabi Tuna and On the Low. In 2004, Jones released his first solo piano CD, So Amazing (Songs from the Luther Vandross Songbook), a moving tribute to his friend of many years as the two worked together in the group Chic. His other CDs include Acts of Love, Naked Soul, Intimate, and the singles "Christmas Blue" and "First Noel"."

BUY THE CD AT: UEGMUSIC.COM GO! CDBABY.COM GO! TRACK LIST AND LYRICS GO!
CHIC NORWAY SHOW ONLINE
(Stockholm 28/09 07) The CHIC gig in Norway on August 28th 2007 was part of a TV-show broadcasted by the Norwegian State TV NRK. The show has now been posted online. CHIC performs two times, the first (Everybody Dance & We Are Family) starts at 03:25-12:40, the second (Good Times & Le Freak) at 59:40-to the end. You need to be able to watch Windows Media 9.

WATCH IT GO!
NILE TO HELP WITH UN MILLENIUM DEVELOPMENT GOALS
(Stockholm 28/09 07) Nile Rodgers has a new project:

(APP): "The UN will organise a telecast next year to promote the Millennium Development Goals (MDGs), a series of targets to slash a host of social and economic ills by 2015, officials announced Wednesday. The announcement came when internationally renowned musician and producer Nile Rodgers presented General Assembly President Sheikha Haya Rashed Al Khalifa with a special award at ceremony in New York. The award is in recognition of her work in promoting MDGs.

The MDG Festival, planned for June 2008, will feature high-profile international celebrities and entertainers and will present awards for outstanding achievements by businesses, governments, civic organizations and members of the development community, organizers told reporters at a later press briefing. Grammy Awards producer and lifetime achievement award winner Nile Rodgers, who will produce the event, said it would serve to highlight the importance and possibility of accomplishing the internationally agreed goals by 2015. "It will create greater awareness and commitment to the MDGs by the general public, by schools and by the business community," he said."

Something to look forward to, hopefully CHIC will perform at this event. (pocat)
SHOULD I BOTHER?
(Stockholm 28/09 07) I don't know if I should bother reporting on this? But here goes; CHIC has been nominated for inclusion into the Rock & Roll Hall Of Fame in 2008. This is the fourth time our favorite band has been so, dubiously, honored. Given the still raging prejudice against anything Disco related, I don't have much hope that our stellar gang will get inducted. But you never know? Anyway, here are CHIC's fellow nominees: Madonna, The Beastie Boys, Dave Clark Five, Leonard Cohen, Africa Bambaataa, John Mellencamp, The Ventures & Donna Summer. Of course the rock fans are already baying like rabid hounds at the affront of choosing to nominate (in their eyes) two "Disco" acts. Please get out on to all the online forums you can and set them straight.

ROLLING STONE GO! FUTURE ROCK HALL GO! ROCK & ROLL HALL OF FAME GO!
SLEDGE ALBUMS RE-RELEASED
(Stockholm 09/08 07) This news comes from "clooneyclone1" in the UK, thanks for the info:

"On September 18th 2007, Wounded Bird Records will be reissuing the CHIC Organization produced "Love Somebody Today" album by Sister Sledge on CD. This is great news, as it's been unavailable for many years! The Nile Rodgers produced "When The Boys Meet The Girls", containg the hit "Frankie" and CHIC-ish "The Boy Most Likely", will also get released. In addition, Sister Sledge albums "Bet Cha Say That To All The Girls" (EU/US), "All American Girls" (EU/US), "Circle Of Love" (EU/US), "Together" (EU/US) and "Sisters" (EU/US) are also released on September 18th."

And I (pocat) assume they all will have been remastered as have the CHIC album previously re-released by Wounded Bird. One does hope that they will give Nile Rodgers' first solo album "Adventures In The Land Of The Good Groove", which to my knowledge have never been released on CD, the same treatment.

BUY "LOVE SOMEBODY TODAY" EU/US BUY "WHEN THE BOYS MEET THE GIRLS" EU/US
PRINCE TO ATTEND CHIC GIG?
(Stockholm 09/08 07) Yesterday the Belgian newspaper "Gazet Van Antwerpen" posted the following on their online site:

"Prince's entourage has informed the organizers of Marktrock that they may attend the Nile Rodgers & CHIC concert. It takes place on Saturday August 11 on the Ladeuze Square in Leuven. The only European concert this summer of the American funk band, that was formed in 1976 by Rodgers and bass player Bernard Edwards. Prince himself stays in London for 20-some concerts. Whether he is indeed coming to Leuven remains uncertain. Nile Rodgers already told that he will attend the Snoop Dogg Marktrock concert on Friday."

Prince, who have been closing the shows of his current "The Earth Tour" with a cover of CHIC's "Le Freak", maybe wants to check out the real deal?

MARKTROCK GO!
CHIC ORG. T-SHIRT
(Stockholm 11/07 07) Our friend FrenCHIC over at c-chic.com has found the must have clothing item for all CHIC fans; A "The CHIC Organization Ltd." T-shirt. It costs £20 or (in todays currency value), €29,5, $40,5. Thanks FrenCHIC for this news.
NILE IN JAPAN INTERVIEW
(Stockholm 08/06 07) Japan Times online has published an interview with Nile Rodgers today in preparation for CHIC's gigs at The Blue Note Club in Tokyo next week. Among other things the article mentions the elusive new album; "The group ...//... has a new album in the works that Rodgers hopes to spend six months on the road next year supporting.".
CHIC AT THE ANNUAL WAFF CELEBRATION
(Stockholm 02/04 07)
Date Apr 23, 2007 6:00PM Location New York, NY USA Cost 1,250.00 Dress business formal (jacket & tie) Address Manhattan Center's Hammerstein Ballroom, 311 West 34th Street, New York City.
Details We Are Family Fifth Annual Celebration Monday, April 23rd 2007 We Are Family Foundation Celebration will honor music legends Dionne Warwick, Paul Simon and New York Mercantile Exchange Chairman Richard Schaeffer. Tommy Hilfiger will host and co-chair the gala with Gibson Guitar Corporation Chairman & CEO Henry Juskiewicz. Guests will be presented with an unforgettable evening kicking off with a VIP reception hosted by the Gibson Foundation and Keys for a Cause™ presented by Tiffany & Co. The evening will continue with cocktails, dinner, award presentations, a live auction hosted by actor/comedian Orlando Jones and musical performances by Paul Simon, Dionne Warwick, Nile Rodgers & CHIC - plus others to be announced. Individual tickets available: $1,250. Tables available: $10,000 – $50,000. Dress: Chic attire. The evening will begin with a VIP reception at 6:00pm, cocktails at 6:45pm and the awards ceremony and dinner begin at 7:30pm. Ticket Inquiries: Devin Cox at We Are Family Foundation, 212.397.4333 ex. 304. PR Contact: Erin Ryder at 5W Public Relations, 212.584.4291.
WE ARE FAMILY FOUNDATION GO!
CHIC NYC's TOP 3 BAND
(Stockholm 03/03 07) The Guardian got it wrong in the news item below. The listing of New Yorks 50 greatest musicians of all time was not in "The New Yorker" but instead in "Time Out New York". CHIC is listed as no. 3 after Velvet Underground and Duke Ellington, I don't think Nile mind coming after Duke Ellington, don't know about Velvet.. though? But CHIC is before; Miles Davis (4), Public Enemy (5), The Ramones (11), Blondie (14), Talking Heads (19) among others. Thank you to Paul for this news...

READ ARTICLE GO!
CHIC BOX SET IN MAY?
(Stockholm 23/02 07) According to an article in todays online Guardian (UK) newspaper WEA will release a CHIC box-set in May 2007. The astonishing news comes at the very end of an article about the age of Disco, interviewing among others our own Nile Rodgers.

In the article Nile talks about: "...a recent New Yorker Top 10 of the Most Influential NYC bands ever..../../..."Where were Chic in the list?" he savours the question one more time because he knows the answer, and it's a good one. "Above the Ramones, man. Above the Ramones."". This is the sort of thing we CHIC fans like to hear. :D

No news as of yet about the box content, so if anyone finds out anything please let us all know. Thank you to Luke Barker for this news...

READ ARTICLE GO!
CHIC SNUBBED YET AGAIN BY ROCK HALL OF FAME
(Stockholm 09/01 07) CHIC has yet again been overlooked by the voting body of the R&R HOF. One wonders if they have even read their own criteria for inclusion? The most important point being a bands influence. -HELLO!!!! I think we all know, there are very few bands or artists who can match CHIC in this field, certainly not any of the ones who was chosen to be inducted. REM, Van Halen, Patti Smith, Grandmaster Flash &... The Ronettes; now if their producer was to be inducted, which he was in '89, that would've been something entirely different. Of course they have all made a significant contribution to popular music, but their influence has mostly been limited to their own genre of music, not like CHIC who has influenced acts far beyond their genre. That they (the voters) have yet again overlooked CHIC, I can only attribute to the still much maligned (in the US) "Disco" label which have been labeled on on our favorite band. One had hoped that the knowledgeable people in the music industry who are allowed to vote for the inductees would see past false labels, but apparently not. It is a sad day for music lovers.
DON'T MISS NILE ON NEW YEARS DAY!
(Stockholm 29/12 06) BBC Radio is broadcasting a show focusing on Nile Rodgers as a producer (CHIC and others) on New Years Day, Jan. 1st GMT: (UK) 19-20, CET: (EUROPE) 20-21, EST: (US) 2PM-3PM. Thank you to our collaborator Glen Russell for this news..
12 MIN. SPACER RELEASED
(Stockholm 29/12 06) From France news reaches us about a new 12 minute mix of Sheila & B. Devotion's hit "Spacer" It's called: "The Freak Out Remix - Respect To Chic - Inédit". Unfortunately to get the mix you have to buy the new Sheila box which contains 18! CD's. Thank you to Thierry and C-CHIC.com for this news..
CHIC ALBUMS RE-RELEASED
(Stockholm 26/11 06) Wounded Bird has yet again come through for us CHIC fans. Remember they re-released "Real People"/"Tongue In CHIC" a couple of years back. Now they have almost gone all out and released digitally remastered CD's of "CHIC" (1977), "Take It Off" (1981), "Believer" (1983) and "CHIC-ism" (1992). Nearly all hard to find on CD. So don't miss this opportunity to buy CHIC on CD or buy a safety copy. The CD's are available to buy right now directly from Wounded Bird and in Europe (not CHIC-ism). They will be released on Dec. 5th in the US. Thank you to Kelley Thiney and Glen Russell for this news..
CHIC SLAM-DUNK FOR ROCK HALL OF FAME?
(Stockholm 31/10 06) CHIC is again (for the third time) nominated for induction into the Rock & Roll Hall Of Fame next year. This year the fellow nominees are: Dave Clark Five, Grandmaster Flash, R.E.M., The Ronettes, Patti Smith, The Stooges, Joe Tex & Van Halen. What do you think guys, will our heroes get inducted this time? According to Ken Barnes Music Blog on USA Today it is a slam-dunk, let's hope he is right.
BABY CHIC?
(Stockholm 24/07 06) Frenchic from c-chic.com reports on a French release sampling CHIC's "Good Times", they're called "Baby HipHop" and the song, sung by kids 7-13 years old, is called "On Est Là". It is currently at no. 16 in the French chart. Thanks for the news Frenchic.
NORMA JEAN & LUCI MARTIN ALBUM IN THE WORKS
(Stockholm 14/07 06) In an interview, after performing "Le Freak" on French TV channel France 2 TV show "La télé de Sébastien" on July 12 2006, Norma Jean Wright and Luci Martin (Former Lead Vocalists of CHIC) said this: "We are currently starting to review music because we want to start an album with just Norma Jean, Luci Martin together". Super news don't you think? Can't wait to lay my hands on that album.. Thanks to Luc for this news.

BTW: Happy 14 July to all French - Vive La France!
JODY WATLEY COVERS CHIC
(Stockholm 07/07 06) Spacer reports that Jody Watley is doing a cover of CHIC's "I Want Your Love" on her coming (Aug. 8) album release "The Makeover". The album consist of covers of songs from her favorite artists. And she says this, on her home page, about choosing a CHIC song: "Nile Rodgers and Bernard Edwards of course rocked my world with CHIC, Sister Sledge, Norma Jean Wright, etc....modern glam and classic tunes..." And are counting our fav' band as one of her major influences in her bio. Of course we know her for her collaboration with Bernard Edwards who produced her Grammy Award winning solo hit "Don't You Want Me" in 1987. Thanks for the news Spacer.

LISTEN TO THE COVER GO! PRE-ORDER THE ALBUM EU/US JODY WATLEY'S HOMPAGE GO! JODY WATLEY ON MYSPACE GO!
CHIC MONTREUX GIG PHOTOS
(Stockholm 04/07 06) Luc have provided us with some nice pix fron CHIC's gig at the Ahmet Ertegun Tribute Night at the Montreux Jazz Festival on June 30th 2006. Thanks Luc.

BTW: More images are to come soon, check back!

CHECK THEM OUT GO!
ANOTHER CHIC GIG IN ITALY?
UPDATE (04/07 06): CHIC are NOT! playing at the Cheval Café it seems to be a case of false advertising. I'm sorry for any inconvenience this might have caused.

(Stockholm 02/07 06) Luigi found out for us that CHIC are apparently doing one more gig in Italy this summer, at least if you are to believe the Cheval Café in Milano/Milan (website) where the gig is supposedly being held on tuesday July 4th at 21:00 (9pm). Nothing about it on NR.com yet though? Thanks Luigi.

DETAILS IN THE CHIC EVENT CALENDER GO!
MONTREUX NEWS CLIP
(Stockholm 02/07 06) Luc found a news clip from Swiss TV for us. The clip is all about the Ahmet Ertegun tribute night at Montreux June 30th 2006. Nile is interviewed and CHIC plays in the clip. Thanks Luc.

CHECK IT OUT GO!
LUTHER SAYS FAREWELL WITH CHIC SOUND
(Stockholm 30/06 06) In a team up between J, Epic & Legacy record co's a new Luther Vandross ultimate compilation will be released on Aug. 22, 2006. It will feature Luthers greatest and most significant recordings. And also contain two previously unreleased tracks. One of them, the track "Shine" (produced by Jimmy Jam & Terry Lewis), is using a sample of CHIC's "My Forbidden Lover" from the "Risqué" album in 1979.

It's heart warming that Luther (although posthumously) in one of his last releases returns to the sound he helped create, the sound of the CHIC Organization family. Thanks to BoysWillBeBoys in the C-CHIC.com forum for this news.

LISTEN TO SHINE GO!
EMULATORS GALORE
(Stockholm 30/06 06) Luigi Melatti are reporting on two more CHIC emulators. The first was released last year by Giampiero Ponte feat. Lisa Shine and it is entitled "Freak It" but samples Sister Sledge's, CHIC written, "Got To Love Somebody" from 1980. The second, released this spring, by DJ Farouche vs. Le CHIC is entitled "I Won't Let You Get Me Down" the sample being taken from CHIC's "Le Freak" from 1978. Thanks for the news Luigi.

And from John Pettitt comes news of a UK dance band, Crazy P, who on their recent album track "Cruising" are using a sample from "The Face In The Window" from Nile Rodgers 1985 solo album "B-Movie Matinee". Thanks for the news John.

LISTEN TO "FREAK IT" GO! BUY THE TRACK GO! LISTEN TO "I WON'T LET YOU GET ME DOWN" GO! BUY THE TRACK GO! LISTEN TO "CRUISING" GO! BUY THE TRACK GO!
CHIC SARDINIA GIG PHOTOS
(Stockholm 29/06 06) Pietro Cannas have provided us with some nice pix fron CHIC's gig at the private event in Ponte Cervo Sardinia/Italy on June 25th 2006. Thanks Pietro.

CHECK THEM OUT GO!
CHIC SONAR VIDEO CLIPS
(Stockholm 27/06 06) I have added three video clips from CHIC's gig at the Sonar Festival in Barcelona on June 16th 2006. They are on the YouTube.com page just below the CHIC clip from the O2 Wireless Festival.

CHECK THEM OUT GO!
CHIC WIRELESS REVIEW
UPDATE (26/06 06): A video clip from the O2 Wireless Festival of CHIC performing "Good Times/Rappers Delight" have been posted on YouTube.com.

CHECK IT OUT GO!

(Stockholm 26/06 06) The Guardian has reviewed Saturday at the O2 Wireless Festival in Hyde Park, and just as fellow CHIC fan Jow, who was there, they thought it was a shame that CHIC weren't headlining the day. CHIC's bit is at the very end of the article.

READ REVIEW GO!
SENSITIVITY VIDEO FEATURES NILE
(Stockholm 22/06 06) NileRodgers.com has just posted the video of Shapeshifters new single release the CHIC infused "Sensitivity", and the clip features Nile Rodgers. Thanks for the news Nelson.

NILE RODGERS.COM GO!
FREE CHIC GIG AT MONTREUX!
(Stockholm 21/06 06) Our Swiss connection Luc are reporting that CHIC will do a FREE gig at the Mountreux Jazz Café on July 1 at 10:30pm. Thanks for the news Luc.
MOONY GOES CHIC
(Stockholm 20/06 06) Our Italian connection Luigi Melatti reports on a new CHIC sampling. Moony who had a big dance hit in 2002 with "Dove" released "For Your Love" now in June. The sample is from Norma Jean Wright's 1978 classic "I Like Love" which is a personal favorite of mine, and Moony have utilized the sample very well. Thanks for the news Luigi.
BEAUTIFUL COVER OF WHY
(Stockholm 20/06 06) The Memory Band singer Nancy Wallace was invited to perform some CHIC songs at the book launch party of Daryl Easlea's CHIC bible "Everybody Dance - And The Politics Of Disco" last year. That gig has now resulted in two single releases. Last year Nancy Wallace released her cover of CHIC's "At Last I Am Free" and soon (early July) The Memory Band will release an extraordinary beautiful cover of Carly Simon's "Why". Thanks to Luke Barker for this news.

LISTEN TO COVER OF WHY GO! NANCY WALLACE SITE GO! MEMORY BAND SITE GO! ON MYSPACE GO!
CHIC SONAR PIX AND INTERVIEW
(Stockholm 20/06 06) I found a short interview that Nile Rodgers did as a prologue to CHIC's gig at the Sonar Festival in Barcelona/Spain on June 16th. Sonar have also posted some nice pix from CHIC's gig.

READ INTERVIEW GO! CHIC's SONAR PIX GO! SONAR FESTIVAL SITE GO!
WIN A GUITAR & DATE WITH NILE RODGERS
(Stockholm 02/05 06) Do you want to meet Nile Rodgers and get a signed Stratocaster electric guitar to boot? To have a chance of that enter the E3 Insider sweepstakes 2006.

E3 INSIDER SWEEPSTAKES GO!
CHIC HONORING ERTEGUN AT MONTREUX
(Stockholm 28/04 06) This years Montreux Jazz Festival appearance by CHIC will be a little different. They will be part of a celebration of Atlantic Records legendary co-founder and leader Ahmet Ertegun. The night will see stars such as Bette Midler, Solomon Burke, George Duke, Ben E King, Robert Plant and many more take the stage.. Thanks to Luc for this news.

CHIC EVENT CALENDER GO! MONTREUX JAZZ FESTIVAL GO! DOWNLOAD PDF PROGRAM GO!
PURE CHIC GOLD POSTED!!!!!
UPDATED! (Stockholm 18/04 06) Two more interview clips from 1980 have been posted at NileRodgers.com, don't miss this!.

(Stockholm 15/04 06) STOP THE PRESSES!!!!!!!!! MAJOR NEWS!!!!!!!!!!!!!!

To honor the 10th anniversary of Bernard Edwards ascension NileRodgers.com have posted two fantastic treasures in their members section. First a video clip of Fonzi Thornton singing the demo for what was to become the song "Love And Be Loved" on the, as of yet, unreleased Johnny Mathis album, while Nile and Bernard look on and later are being interviewed. I must say I got tears in my eyes when I first looked at this clip, I'm so happy and the song sounds super. This is just one of I'm sure many other top notch CHIC songs we have been deprived of hearing all these years. Thanks so much to Nile for allowing us to see this. In the second clip Nile and mostly Bernard talk about coming off a very tough year (1979/80) producing 5 albums and touring 6 months. The two clips are PURE CHIC GOLD!!! Just abandon everything and run over to Nile's place to watch, and cry with happiness!!!! Discuss what you think about the CHIC/Mathis song in the Forum.

NILERODGERS.COM GO! JOHNNY MATHIS ALBUM INFO GO! DISCUSS IN THE FORUM GO!
SHEILA's CHIC CD RE-RELEASED
(Stockholm 10/04 06) CHIC's production of Sheila & B. Devotion's "King Of The World" album (1980), containing the hit "Spacer" are scheduled for re-release, by Rhino, in the UK on May 1. If you are a true CHIC fan and are missing this production hurry to pick up a copy. Thanks to Kelly Thiney for this news.
TONY ON NEW DVD!
(Stockholm 01/04 06) A DVD of David Bowie's 1983 "The Serious Moonlight Tour" has been released by Virgin/EMI. The tour, which featured our own Tony Thompson on drums, was created on the heels of Bowie's biggest hit album ever "Let's Dance" which was produced by Nile Rodgers and featured CHIC luminaries such as Bernard Edwards and said Thompson. The DVD will also include a (78 min.) documentary filmed during the tour. So take the opportunity and enjoy Tony Thompson's mastery yet again. Who knows, the documentary may even include a chat with Tony?

"The Serious Moonlight Tour" have been released before on both VHS and DVD, but not with the documentary included. This time it seems (?) that both the sound and picture quality have been improved.

MORE INFO GO! BUY THE DVD EU/US CHECK OUT NILE PLAYING 'LET'S DANCE' GO!
A FREAK OUT IN THE COURTROOM
(Stockholm 01/04 06) CHIC's multi-platinum hit Le Freak was played in the battle between Apple Computer and Apple Corps in London's High Court this week. Apple Corps which is The Beatles record company, is suing Apple Computer the company behind the iMac and iPod for breach of a 1991 agreement that more or less forbade Apple Computer to get into music distribution. Well Apple Corps thinks that Apple Computer has broken the agreement when they launched their iTunes Music Store.
NO CHIC RELEASE ON APRIL 18TH!
(Stockholm 01/04 06) For those of you who have been waiting and expecting that CHIC will release some new music on April 18th I'm sad to say that we have to wait a bit longer. I got this from Nile Rodgers a couple of days ago: "The April 18th date had to be changed. This record is very important to me. All aspects have to be right." Well guys, things are happening so eventually we'll get what we want.
NEW CHIC DVD!
(Stockholm 01/04 06) Last year CHIC did a gig at the Amsterdam club "Paradiso" now a CD+DVD from that gig, entitled "CHIC - A Night In Amsterdam", has been released (later this month in some areas). This gig also featured Fonzi Thornton so don't miss this one. Big Time CHIC fan Sharon Ebrecht was there last year and allowed CT.com to post some of her pix from the event.

The DVD track list is as follows: 1. Everybody Dance 2. Dance Dance Dance (Yowsah Yowsah Yowsah) 3. I Want Your Love 4. Diana Ross Medley: I'm Coming Out / Upside Down 5. Sister Sledge Medley: He's The Greatest Dancer / We Are Family 6. At Last I Am Free 7. I'm Thinking Of You 8. Meet The Band / Jam with CHIC 9. My Forbidden Lover 10. Le Freak 11. Good Times. DVD EXTRAS: On the road with CHIC, Highlights from the Pole-Pole Festival, Nile Rodgers interview, CHIC discography, Nile Rodgers bio, Photo gallery. The CD track list is the same as the DVD songwise.

Another interesting thing is that the cover seems to consist entirely of photos from chictribute.com, at least if the cover on this page is correct. Photos taken by Luc from Neuchatel, Sharon Ebrecht and a pix I got from Richard Hilton is on the cover. Thank you Dave Gronert for this news.
THE SHAPE OF THINGS!
(Stockholm 20/03 06) In an interview by Ben Hogwood on musicomh.com the Shapeshifters talk a little about their collaboration with Nile Rodgers on the track "Sensitivity". They shed light on the state of the Johnny Mathis demo they got from Nile Rodgers "There were no vocals, no nothing and he just e-mailed it over to us..." I (pocat) thought the demo would have had guide vocals by Fonzi Thornton on it, but apparently not? The Shapeshifters go on with saying: "...we wrote a completely new song over it, then recorded strings and all the vocals and stuff and e-mailed it back to him. He jammed with his guitar over it, and so it was done pretty much completely over the internet!". So now we have a little more info on the 16 demo tracks Fonzi found.

I've also found a page where you can listen to all the tracks on the album. And I have this to say about "Sensitivity": The track starts off with what sounds like Nile counting down. One can also hear some familiar CHIC-ish string stabs. The whole track is full of strings action. At the end one can clearly hear a little string part that is very much like the CHIC Strings on "I Want Your Love", Or am I wrong? ...I love it! Can't wait for the 12" mixes. Check out the track and tell us what you think?

READ THE INTERVIEW GO! LISTEN TO SENSITIVITY GO! WHAT DO YOU THINK? GO!
A TASTE OF THINGS TO COME!
(Stockholm 17/03 06) If you want a little taste of things to come you should go out and buy the new Shapeshifters album "Sound Advice" released on Monday March 20th. On it is a track called 'Sensitivity' which is a collaboration between the Shapeshifters and CHIC. The track is based on a sample from one of the demo's of the as of yet unreleased CHIC/Johnny Mathis album (Columbia 1981), this demo track turned out to be the song "Love And Be Loved" (on the Mathis album). But the Shapeshifters, instead of simply using a sample, have gone one step further.

Nile Rodgers had this to say about the collaboration: "The Shapeshifters along with CHIC (me on guitar) replayed everything. We wanted to capture the true vibe of a real collaboration so the CHIC Organization allowed them to replay the parts so that it is a Shapeshifters/CHIC record."

You may all remember Nile Rodgers mentioning this collaboration at the Mountreux Jazz Festival last year (2005), if not listen to this clip courtesy of Béla Diòs. The first single release from the Shapeshifters coming album was the single "Incredible" and the second single (early summer) will be "Sensitivity".

So this track is a little bit of CHIC glory, heralding the long awaited birth of a new CHIC album. If you, like me want to celebrate this coming event, you'll put this Shapeshifters track on repeat until the big day, ...the heavenly day. :D